Pets Lifeline continues "distanced" dog and cat adoptions as new shelter facility nears completion.
Jelly has the warm brown eyes and expectant smile that — if you have an ounce of dog love in your soul — will melt your heart.
She's a 13-month-old shepherd-ish mix with the playfulness of a puppy but enough self-restraint to suggest an easily-disciplined future with a little guidance and a lot of exercise.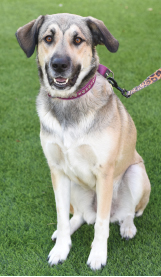 She shows all the qualities of a happy and secure childhood (just look at that smile), and was only given up for adoption when her family's circumstances required it.
If you only think you might be interested in a dog, be careful. Spend five minutes with Jelly and you'll want to take her home. For — as they say — ever.
Jerold, on the other hand, is something else again. First of all — of course — he's a cat. And not, at least at this point in his life, a cuddly little, passive bundle of lap fur. Jerold would rather drive the train than ride it, and he sometimes stalks the office at Pets Lifeline like he's in charge, not executive director Nancy King.
Very curious, Jerold likes to lie-in-wait for unsuspecting passing feet, and has wickedly fast paws. He plays above his weight, so you have to be wary when reaching in to pet him if he's more in the mood for a scuffle. But he's not all slash and burn. He volunteers his service as a useful paperweight for desktop files, and is willing to nap on an office chair to keep it warm.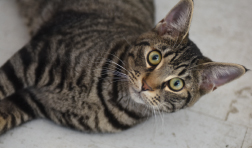 He's endlessly entertaining, admirably (or annoyingly) self-confident, and quite handsome. Just entering his second year, he promises to be a long-haul cat.
Jelly and Jerold are, of course, just the tip of the Pets Lifeline pyramid, and occupying temporary space at the shelter's interim home while a grand new pet palace nears completion.
King says the new Sonoma facility, built in place at the old shelter site on Eighth Street East, should be ready by March or April. Following the shelter's founding in 1982, a hodge-podge of structures, trailers, a converted home and limited pen space were duct-taped together on property the agency bought in 1987. 
The new, roughly $3.5 million facility will nearly double the canine habitat, with 20 indoor/outdoor connected kennels, canine training classrooms, eight community cat rooms, 20 cage cat intake rooms and a large "cat condo" with attached cat porch, or "catio." There will also be a complete, 1,375 square foot vet clinic, landscaped grounds and a year-round education classroom and garden.
The agency's current operations are confined to temporary units on lower Broadway, sitting on land donated for the duration of construction by the Sangiacomo family. 
Pet adoption can be pursued online and over the phone, with pet-in-person visitation arranged by private appointment in a sterilized room onsite.
Visitation at the Broadway site is currently limited by COVID-19 precautions, but pet adoption can be pursued online and over the phone, with pet-in-person visitation arranged by private appointment in a sterilized room onsite. So, if you want to get up close and personal with Jelly or Jerold, that can be arranged.
King says the capital campaign to pay for the new facility has been wildly successful, thanks to numerous local donors, but that PLL still needs to raise an additional $400,000 to cover change orders and other unanticipated expenses, not the least of which has been the pandemic's impact.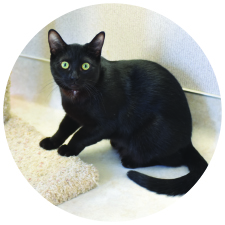 Some of those funds will come from ongoing opportunities for donors to have their names attached to kennels, rooms and other components of the facility. Donors can also buy plaques that will be mounted on metal totem poles, situated in a memorial garden where pet lovers can buy personalized memorial stones in a water feature for pets that have passed on. Details on donor programs will appear on the Pets Lifeline website.
Meanwhile, animal adoptions continue at the Broadway site, although King says the number of adoptable dogs has declined this year, presumably because there are fewer strays, and pets have become more important in the lives of people impacted by the pandemic. There are, however, plenty of adult cats, including Jerold. And Jelly will soon be looking for a forever home.  
Pets Lifeline, temporarily at 21045 Broadway, Sonoma. (707) 996-4577. petslifeline.org.