Laid-back tasting lounge features gold-medal wines and a touch of the Dead.
When Jim Foley Jr. was growing up on the Jersey Shore his grandmother called him Seamus, which is the Irish equivalent of James, and he carried the name forward when he started a wine label and opened a tasting lounge in Kenwood with his father, Jim Foley Sr.
Along the way, he also owned and operated a variety of restaurants and became a certified Dead Head. "Certified," because on the wall of his tasting lounge, above the bar, there is a 10-foot-long, panoramic photo of a 1982 Grateful Dead concert, the first of 14 gigs the band played at Stanford University's Frost Auditorium.
"I've always loved music," says Foley, whose father was and is a huge Willie Nelson fan. That love is evident in the upright piano occupying prime space in the tasting room, and in the laid-back atmosphere of comfortable furniture, casual outdoor access, and the open invitation for visitors to come and browse, buy a glass or a bottle, sit around and chat, go online, play a game of cornhole, or jam with other musicians.
Foley also hosts Ed Metcalfe's sushi-making classes, held in the lounge on a long custom-made table constructed of oak barrel staves, during which Seamus wines are available in flights paired with the sushi.
Another outside-the-box tasting experience occurs on Thursday nights when Seamus hosts "Paint Night," during which patrons get painting lessons from a professional artist, complete with canvas, brush, paints and, of course, wine. The paint nights often double as date nights or family nights, sometimes with upward of 20 participants.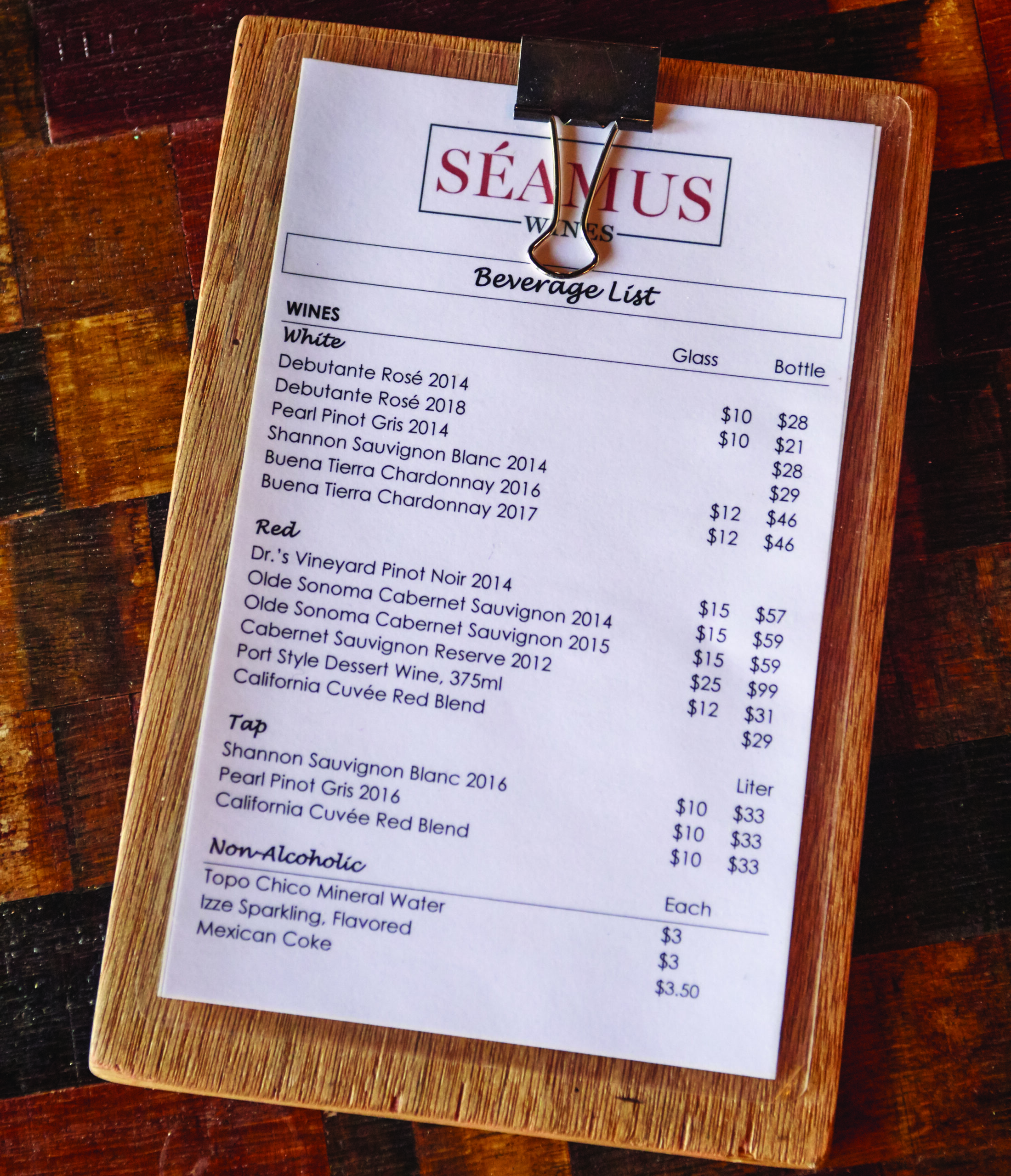 In the future, he says, he's hoping to host tie-dye nights, and any other kind of activity he thinks his guests might enjoy.
The wine itself is a strong attraction, including a prize-winning mix of cabernet, pinot, chardonnay, sauvignon blanc, rosé and a red blend cuvée. At the 2018 Sonoma County Harvest Fair, Foley's 2015 Olde Sonoma cabernet won double gold and best of class, and in the 2019 competition the Seamus 2017 Buena Terra Chardonnay won double gold.  
Seamus Tasting Lounge is located at 8910 Sonoma Highway, in Kenwood. Go to seamustastinglounge.com, or call 707.573.7277 for tastings and more information.