There are, on the walls of Matthew Tippell's office overlooking Sonoma Plaza, two iconic images. On the right of his desk is Sean Connery's James Bond, framed by the Union Jack and holding a small-caliber, long-barreled semi-automatic pistol.
On the left are the equally familiar but much friendlier, cheek-to-cheek faces of Roy Rogers and Dale Evans, once the king and queen of Hollywood westerns.
Tippell is English, his wife is American, so maybe there's some transatlantic meaning in his workspace, which houses the headquarters of Salt Shed, a design-build, custom home firm currently positioned in the sweet spot of North Bay residential construction and a useful barometer of the local real estate market. Tippell is CEO and co-owner, in partnership with San Francisco contractor Mike Coleman, whose credentials include project management for San Jose's iconic Santana Row.
Design-build is a simple way of saying that every aspect of home construction—from architecture, pre-construction, interior design and project management—is conducted and orchestrated by one team, the members of which work collaboratively at every stage of the project.
The result, says Tippell, can typically be 20 percent lower cost for the luxury homes Salt Shed builds, both because of project efficiency and because the whole process unfolds more quickly, translating into cheaper money.
"Time saving is incredibly important," he says, "both for meeting the client's expectations and for reducing the interest paid on construction loans."
And change orders, the bane of contractors caught between clients and architects, are dramatically reduced if not eliminated by design-build teams.
While most of Salt Shed's projects have been seven-figure homes, Tippell says the firm has begun moving into remodels, although that term can be used loosely.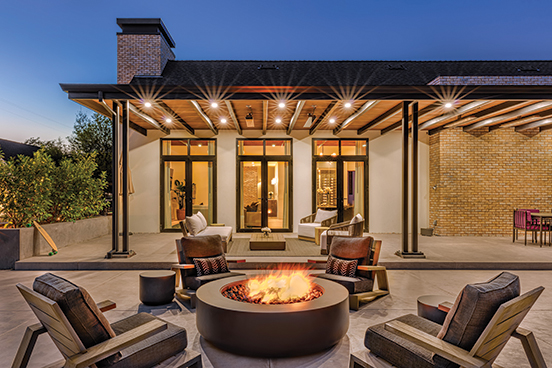 "Most of our remodels are for clients who don't have a house," he says, "they have a lot with a house they don't love."
And of late, Salt Shed has taken on several fire victim homes, including three in Sonoma County at present. "It's kind of emotional," he says. "The client has literally lost everything. So it's very emotional. But also very fulfilling for us."
What's not fulfilling is the degree to which many fire victims are significantly under-insured. "We've lost three clients who were under-insured and simply couldn't rebuild what they wanted and had lost."
What may set Salt Shed apart from the contracting crowd is attention to detail at every level and a design aesthetic that is both warm and wide open.
"Design is really a lifestyle thing," says Tippell, "A lot of people have Wine Country homes as a lifestyle change, and that means living indoor/outdoor, which becomes integrated space."
Look over a sampling of Salt Shed's home portfolio and you see living spaces that are airy, heavily windowed and that flow out to patios, decks and the surrounding outdoors. The firm's name is a riff on the New England traditional saltbox farmhouse that features a disproportional roofline running from two stories down to one. The name fits the company's project inventory which includes a lot of contemporary farm homes.
Tippell says the COVID-19 pandemic has actually made Salt Shed even busier. "I think a lot of people are sitting at home with time on their hands and deciding it's a good opportunity to start a house project." That said, he insists Salt Shed has no aspirations to become a bigger company. "We're effectively medium sized," he says, "with 15 projects right now. We could probably do up to 18, but we don't need to go bigger."
And while COVID-19 may have produced more projects, it is hammering the building materials supply chain. Finished materials and appliances are so hard to come by that Salt Shed now rents storage space to stockpile appliances months in advance of installation. There is also a worldwide shortage of concrete, and the cost of lumber, says Tippell, has gone up 175 percent.
Tippell has been in Sonoma for 16 years, considers himself "amazingly lucky," and says producing high quality homes brings great satisfaction.
"We've got a foothold in this community," he says. "And you want to be proud of what you do. The best way to get your next job is a reference."  
Salt Shed is headquartered at 441 First Street East, Suite 5, in Sonoma. (707) 559.2089. saltshed.com.