Corner 103 Named Top Tasing Room in Nation
The thing about Lloyd Davis is that it's almost impossible not to like him. He is, in a word, nice. A very nice man.
It helps that he makes outstanding wine. Virtually every bottle he pours is festooned with medals — mostly gold and silver. It also helps that he had the marketing wisdom to put his tasting room at the corner of West Napa Street and First Street West in Sonoma, a literal stone's throw from the iconic Plaza and deep in the flow of tourist foot traffic. The street number is 103, hence the name of the winery — at once simple, easy to remember, and somehow elegant.
All of which help explain why, as the COVID-19 pandemic grinds relentlessly onward, Corner 103 still succeeds.
"I'm fortunate," says Davis. "I think I'm doing better than most. I have a lot of loyal followers who want to be sure I succeed. I have a very loyal wine club." Davis says he's lost just six wine club members, out of 600. Many wine clubs, he says, have lost as much as half their memberships during the pandemic.
Another reason for that success may be his policy not to push club membership. "I don't try to sell people a membership." He says. "I don't even try to sell them a bottle of wine. But people really love my wine. And my price point is very reasonable."
Davis says customers who book a wine tasting often tell him, "We're not going to buy wine or join your wine club. We just want to taste."
But then, he says, after the meticulously-staged, 90-minute, five-wine tasting experience, many of them do precisely that, without being asked.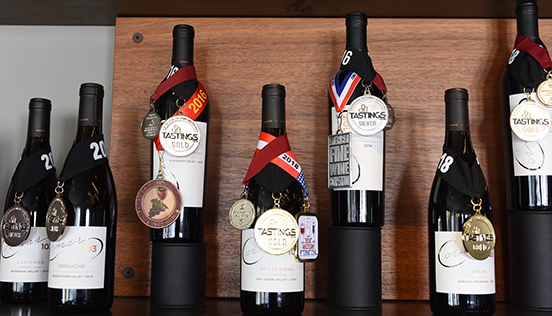 The tastings are currently conducted outdoors on the sidewalk at little two-person tables, which precludes Corner 103's signature food-and-wine pairing experience, simply because there's no room for plates on the tiny tables. But even without the food, Davis says, "People seem to enjoy being outside, I think it will continue." 
That impression is confirmed by a recent rating in USA Today that ranks Corner 103 as the best wine tasting room in the nation.
All customers are screened for any sign of symptoms, some have their temperatures scanned, and everyone must wear a mask until seated. Seatings are limited to six people at one time, and Davis prefers to limit two to a table when possible. Each table and chair is sanitized after every use.
Not so helpful has been the fire driven smoke that enveloped Valley vineyards this fall. All of his red varietals suffered smoke taint, Davis says, meaning he will have no 2020 vintage red wines. Fortunately, there is enough inventory from previous vintages to get him through to 2021.
And, personally, Davis prefers his sparkling rosé because, "I'm a big bubble lover. It reminds me that every day is something to celebrate. When you have that in the glass, you smile. And in this world, we need opportunities to smile."   
Corner 103, 103 West Napa Street, Sonoma. (707) 931-6141. corner103.com.